Welcome to '37 Cellars
We have some new procedures for tastings by appointment. The ceremony of opening bottles as we tell you about the wines has changed. Now, the bottles will be pre opened and the glasses will be in place. We will ask when you make the appointment how many will be in your group; group size can be four people maximum. When you get out of your car, we ask that you put on masks. Sorry, no mask, no entry. We will do the little tour with masks on. Once you are situated in the tasting area you can unmask to taste. We have an inside and outside area to taste and weather will determine which one we use. When the tasting is concluded, it will be time to mask up again.
Thanks in advance to adhering to these new procedures!
We will continue to do curbside deliveries and will also deliver wine with the local area.
We are also providing free shipping in the continental US until August 31st for purchases of a minimum of 6 bottles of wine.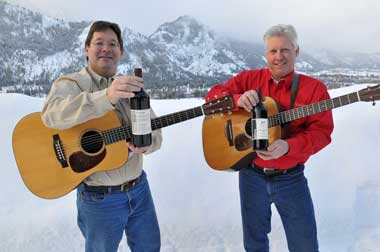 '37 Cellars came about when two brothers-in-law, decided to make their own premium, hand-crafted wine so they could enjoy more of it and share it with friends. Chuck and Frank were fortunate enough to learn their craft by working with winemaker Rob Newsom of Boudreaux Cellars who learned his craft from Gary and Chris Figgens of Leonetti Cellars. After a couple of years of learning their craft with Rob, in 2005, Frank and Chuck's passion and desire to make more wine and make it available to other people let to the formation of '37 Cellars.
In naming their winery '37 Cellars, both Chuck and Frank, who own 1937 vintage guitars, pay homage to the Golden Era of guitar-making by crafting wines with the same level of detail and excellence as the master guitar makers of the past. Their philosophy is simple: buy the best fruit possible from some of the very best vineyards in the state and then give it the TLC it needs until ready for bottling.

Their wines can be tasted at The Chamber Tasting Room in downtown Wenatchee or by calling the winery for an appointment at 509-548-8663.

We hope you will enjoy our wines as much as we do!